The master 2 LL.M in International and European Business Law is taught exclusively in English by UJM professors as well as visiting professors and practitioners from France, Europe and further afield.
Professors from Jean Moulin Lyon 3 university:

Pr. Lukasz Stankiewicz (Université Jean Moulin Lyon 3, France)
Prof Lukasz Stankiewicz is a full-time Professor of Law at the Jean Moulin Lyon 3 University (France), where he teaches tax law and public finance. He holds a Ph.D. in International Taxation from the Jean Moulin Lyon 3 University as well as degrees and certificates in French law (Lyon 3 and Poitiers Universities), Polish law (Warsaw University) and English law (Cambridge University). He has given conference presentations and authored numerous articles in tax law and public finance both in French and in English. Member of the European Association of Tax Law Professors, he also taught at Brooklyn Law School (USA), at the Faculty of Law of the University of São Paulo (USP, Brazil) and at Paris I Panthéon Sorbonne University (France).

Pr. Mathieu Cardon (Université Jean Moulin Lyon 3, France)
---

Pr. Christine Ferrari-Breeur (Université Jean Moulin Lyon 3, France)
Christine FERRARI-BREEUR is specialized in European Union (EU) law as well as in Administrative Law of Property and Comparative Law. She worked at the European Commission as a government expert specializing in higher education issues (recognition of diplomas, free movement of teachers and students). Author of many articles on these issues, she has worked on the impact of EU law on the French civil service. Her work in Administrative Property Law focuses on the Law of Movable Cultural Property, including issues relating to national, comparative or European law.
She has held various administrative and scientific responsibilities within the Université Jean Moulin Lyon 3 and in other structures: Deputy Director of the Institut Droit Art Culture (IDAC) since 2012; Since 2010 Head of the Master 2 Law and Taxation of the Art Market (as well as the University Diploma Professions of the art market); Founding member and scientific co-director of the Juris Art Review. (At Dalloz) since 2013.
Bilingual, since 2005 Professore has contractto the Department of Jurisprudence – University of Turin (Italy) and Head of the Italian Law University Diploma at the Jean Moulin Lyon 3 University since 2003.
From 2013 to 2016, she held the position of Project Officer for Mediation and Dispute Prevention at the University.
---
Visiting professors and practitioners

Pr. Alexander Peukert (University of Frankfurt, Germany)
Alexander Peukert is professor of civil law and commercial law with a specific focus on international intellectual property law at Goethe University Frankfurt am Main, Cluster of Excellence "The Formation of Normative Orders". He studied law and obtained his Dr. iur. (s.c.l.) at the University of Freiburg (1993-1999). After his second state examination (2001), he practiced law in a Berlin law firm specializing in copyright and media law. From 2002 to 2009, he was senior research fellow and head of the U.S. department at the Max Planck Institute for Intellectual Property and Competition Law in Munich. In 2008, he was awarded the qualification of university lecturer (Habilitation) by Ludwig Maximilians University, Munich. He teaches international IP law at the universities of Strasbourg (Intellectual Property Law and Management), Lyon III (LL.M. International and European Business Law), and Alicante (LL.M. IP). His main research interest is in intellectual property and unfair competition law.
---

Pr. Olivier Moréteau (Louisiana State University, USA)
Professor Moréteau joined the Louisiana State University Law Center (Baton Rouge) in 2005, when he was named the first holder of the Russell B. Long Eminent Scholars Academic Chair. He is the Director of the Center of Civil Law Studies, the Editor-in-Chief of the Journal of Civil Law Studies, and the Assistant  Dean for International Programs.
Professor Moréteau is the former Director of the Édouard Lambert Institute of Comparative Law at the Université Jean Moulin Lyon 3, France, where he was an Assistant Professor (1982-90), Associate Professor (1990-98) and then Full Professor (Professeur agrégé). He also served as Director and Vice President for international relations at this university (1993-99). He earned his Ph.D. summa cum laude at the Université Jean Moulin, 1990, after research conducted in Cambridge with a British Council scholarship. He has been visiting professor at the University of Minnesota (1992), Boston University (1993-97, 1999-00, 2002-04), the University of Melbourne (2002, 2004), the University of Luxembourg (2014, 2015), Université Jean Moulin (2012-) and Université de Nantes (2013, 2015).
Professor Moréteau has authored and edited books in French and in English, and written over a hundred articles, chapters, notes, and reviews in various languages, published in international periodicals or books, on the civil law, common law, comparative law, law and languages, legal translation, tort law, the law of obligations, codification, and legal education. A fellow of the Louisiana Bar Foundation and once a member of the Louisiana Bar Equivalency Panel, he holds memberships in the International Academy of Comparative Law, the European Group on Tort Law, the European Centre of Tort and Insurance Law, the Société de Législation comparée, the American Law Institute, the World Society of Mixed Jurisdiction Jurists, the European Society of Comparative Legal History, and is the president of Juris Diversitas.
---

Dr. Nicol Gates (Solicitor in England and Wales and Legal Adviser)
Dr Nicol Gates was born in Liverpool in 1980, where she graduated from the University in English and German Laws before obtaining a doctorate in law from the Julius Maximilians Universtaet Wuerzburg, for which she was awarded a full DAAD scholarship.  She started her career as an intern at the United Nations, after which she returned to the UK to complete her professional legal training in Oxford and as an in-house lawyer at the Port of Liverpool.  Whilst working at the Port she focused on energy and offshore developments, which lead her to her posting in the Netherlands as in-house counsel at the Anglo-Dutch BritNed Electricity Interconnector, during the set-up and construction phase.  As part of the team instrumental in achieving the on-time, on-budget completion of the BritNed project, a particular career highlight was witnessing the first ever flow of electricity between the UK and the Netherlands from the BritNed control room at midnight on 31st March 2011.   As BritNed entered into commercial operation, Nicol moved to the national electricity grid operator of The Netherlands and Germany,  TenneT, to provide legal support to several North Sea offshore wind connection projects as part of Germany's "Energy Turnaround".  In addition to her work as a practising lawyer, Nicol lectures Environmental and Energy Law on the International LLM programme at the Jean Moulin University of Lyon, where she also mentors several students.  In her free time, Nicol is a keen skier and cyclist.  She is a Knight of London's Honourable Society of the Knights of the Round Table and is a Fellow of the Royal Society for the Arts.
---

Dr. Peter Mezei (University of Szeged, Hungary)
Dr. Péter Mezei is a full-time faculty member of the Szeged Law School, an adjunct professor (dosentti) of the University of Turku and Lecturer in Law of the University of Toledo College of Law. He has a focus on international, European, comparative and digital copyright law both in his educational and research activity. He has delivered almost 40 English language lectures at universities in Finland, France, the United States, Germany and Russia. He has held over 80 conference presentations in Hungary, Germany, Canada, United States, United Kingdom, Austria, Finland, France, Poland and Indonesia. He is the author/editor of 10 books and author of 85 articles/book chapters.
His main articles in English language are accessible via the Social Science Research Network (see: http://papers.ssrn.com/sol3/cf_dev/AbsByAuth.cfm?per_id=1697918).
He is the consultant of two PhD students at the Szeged Law School. Eight of his graduate students won Hungarian contests with their papers on copyright law. Besides his academic career he is working as a legal advisor specialized in the field of copyright law. His clients include book publishing companies, recording companies and private people. He is a member of the Hungarian Copyright Expert Board.
---

Mr. Vilaysoun Loungnarath (Principal Advisor, Appellate Body Secretariat, WTO)
Me Vilaysoun LOUNGNARATH is a partner of the Geneva law firm Avocats Ador & Associés where he practices mainly in the fields of international trade law, commercial arbitration and private international law. Member of the l'Ordre des avocats de Genève, he is admitted to the Quebec Bar (1990) and the New York Bar (1993).
From 2001 to 2011, Me Loungnarath served with the Appellate Body Secretariat of the World Trade Organization (WTO) in its Geneva headquarters. As a chief lawyer and senior official, he advised the Appellate Body in cases brought for appellate review within the WTO dispute settlement system. In this capacity, he has worked on a broad range of international economic law subjects. In the WTO, Me Loungnarath was also extensively involved in technical assistance, designing and delivering courses, seminars or projects to the benefit of developing countries.
Before joining the WTO, Me Loungnarath held a professorship at Université de Montréal Law School where he taught and researched in international economic law and business law.
From 1999 to 2001, Me Loungnarath was affiliated to the Montreal law firm Lapointe Rosenstein where he dealt mainly with WTO and NAFTA matters. Previously, he served on the Board of Directors and the Executive Committee of Société de développement industriel, a Quebec State corporation providing various types of corporate financing. He also acted as a legal advisor in technical assistance projects on financial reforms in Algeria and Ivory Coast.
Holding an engineering degree from Université de Montréal (Ecole Polytechnique) and a law degree from McGill University, Me Loungnarath earned a MBA degree at INSEAD (Fontainebleau, France) and pursued post‑graduate legal studies in the United States, at the University of California at Berkeley.
Me Loungnarath has published numerous specialized articles on WTO law, NAFTA, international economic law, the impact of international trade law on the Canadian constitutional system as well as business law and securities regulation. Me Loungnarath is a member of the Société de législation comparée and the Swiss Arbitration Association.
---

Pr. Katrin Deckert (University of Paris Nanterre, France)
Katrin DECKERT is Associate Professor at Paris Nanterre University, and former Deputy Secretary-General of the International Academy of Comparative Law. She studied law in different universities in France and Germany. Since 2009, she holds a PhD in German, French and European corporate and securities law from Panthéon-Sorbonne University (Paris, France) and the University of Hamburg (Germany). She was Research Fellow at Pantheon-Sorbonne University (2001-2004), research and teaching assistant at Panthéon-Assas University in Paris (2004-2006), Research Assistant at the Max Planck Institute for Comparative and International Private Law in Hamburg (2007-2009), Lecturer in German Law at Paris-Est Créteil University (2008-2010), and Senior Research Fellow at the Max Planck Institute for Comparative and International Private Law (2010-2011). She teaches and researches in German, French and European civil, corporate and capital markets law as well as in comparative law.
---

Mr. Yaron Gottlieb (Interpol, France)
Yaron Gottlieb works as an Assistant-Director at INTERPOL – the International Criminal Police Organization. He holds a Phd. from the University of Amsterdam, an LL.M. from New York University School of Law, and an LL.B. (magna cum laude) from the Hebrew University of Jerusalem. He is a member of the New York and Israeli Bars. He has been teaching as a Visiting Professor at the Lyon III University since 2008. His course on protection of cultural property under international law examines a myriad of contemporary questions such as the application of the doctrines of state sovereignty, military necessity, and economic development in this unique field of study. Through discussion of real-life examples such as the the destruction of the Bamiyan Buddhas in Afghanistan; the attack on the town of Dubrovnik, and the lootings of artifacts in Iraq and Syria, the course also cuts across a number of disciplines within international law and enables the students to follow the developments of modern international law, analyze its shortcomings, and delve into the latest jurisprudence of international tribunals.
---

Ms Panagiota Katsorchi (European Court of Justice, Luxembourg)
Penny Katsorchi is a Référendaire at the Court of Justice of the EU for Advocate General Eleanor Sharpston. She has previously worked at the DG Library, research and documentation of the Court of Justice of the EU and as a Référendaire at the General Court of the EU for Judge Soldevila Fragoso. She practiced as a lawyer until 2005. She is teaching European Law and Private Law at Lyon 3 University since 2006 and at the University of Luxembourg since 2014. She has also been a visiting lecturer at the University of Szeged (2009). Her main research interests are Competition Law, Internal Market and EU External Relations and she has several publications in those fields.
---

Mr Georges Vallindas (European Court of Justice, Luxembourg)
Georges Vallindas is Référendaire at the Court of Justice of the European Union. Following a Stage with the President of the Court, he worked from 2008 to 2013 for Judge Soldevila Fragoso at the EU General Court before joining Judge Prof. Rodin at the Court of Justice in September 2013. His PhD, "The Rationality of EU Merger Control", was published by Bruylant (Brussels, 2009) and has received the "Best PhD in European law Award" from the Aix en Provence Faculty of Law (Aix-Marseille University). After the Maîtrise de droit international et européen, he earned at the end of his LLM in EU Law a French government Teaching and Research Fellowship and became an active member of the CERIC (Aix en Provence Centre for Studies and Research in International and European Law). He was teaching for many years at the Law Faculty, where he also successfully coached the Aix en Provence "European law Moot Court" Team. Since 2009, he joined the ELMC Society Board, before being elected President in April 2013.
---

Pr. Jean-Sébastien Quéguiner (Université Rennes 1, France)
Jean-Sébastien Quéguiner is a Full Professor at the Université Rennes 1, where he teaches Private International Law (M1), International Insolvency Proceedings (M2), International Mergers and Acquisitions (M2), International Matrimonial Property and Successions (M2), and Law of Obligations (L3). He studied Comparative Law at the University of Kent at Canterbury (U.K.) (LL.B) and at the Jean Moulin University (M2). During his PhD in Private International Law at the Jean Moulin University, he was granted a Scholarship from the "Improving Human Research Potential" program – "Uniform Terminology for European Private Law" at the University of Turin (Italy), before he was invited as a Visiting Researcher at the Georgetown Law Center (Washington DC). He was Teaching Assistant at the Jean Moulin University from 2005 to 2013. His main area of expertise is Private International Law.
---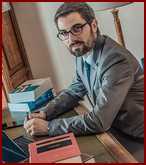 Pr. Riccardo De Caria (Università di Torino, Italia)
Riccardo de Caria is an Assistant Professor of Comparative Public Law at the University of Turin. His research interests and teaching engagements cover the regulation of the new technologies, with a particular focus on blockchain and smart contracts, business law, the legal risk of startups, and comparative constitutional law, especially with regard to economic rights and lobbying regulation. He is also a member of the Italian bar and an occasional op-ed contributor on Italian national newspapers and think-tank publications. He is co-chair of the Italian hub of the European Law Institute.
---
Pr. Toshiko Takenaka (University of Washington, Seattle – USA)
Pr. Youseph Farah (University of Essex, UK)