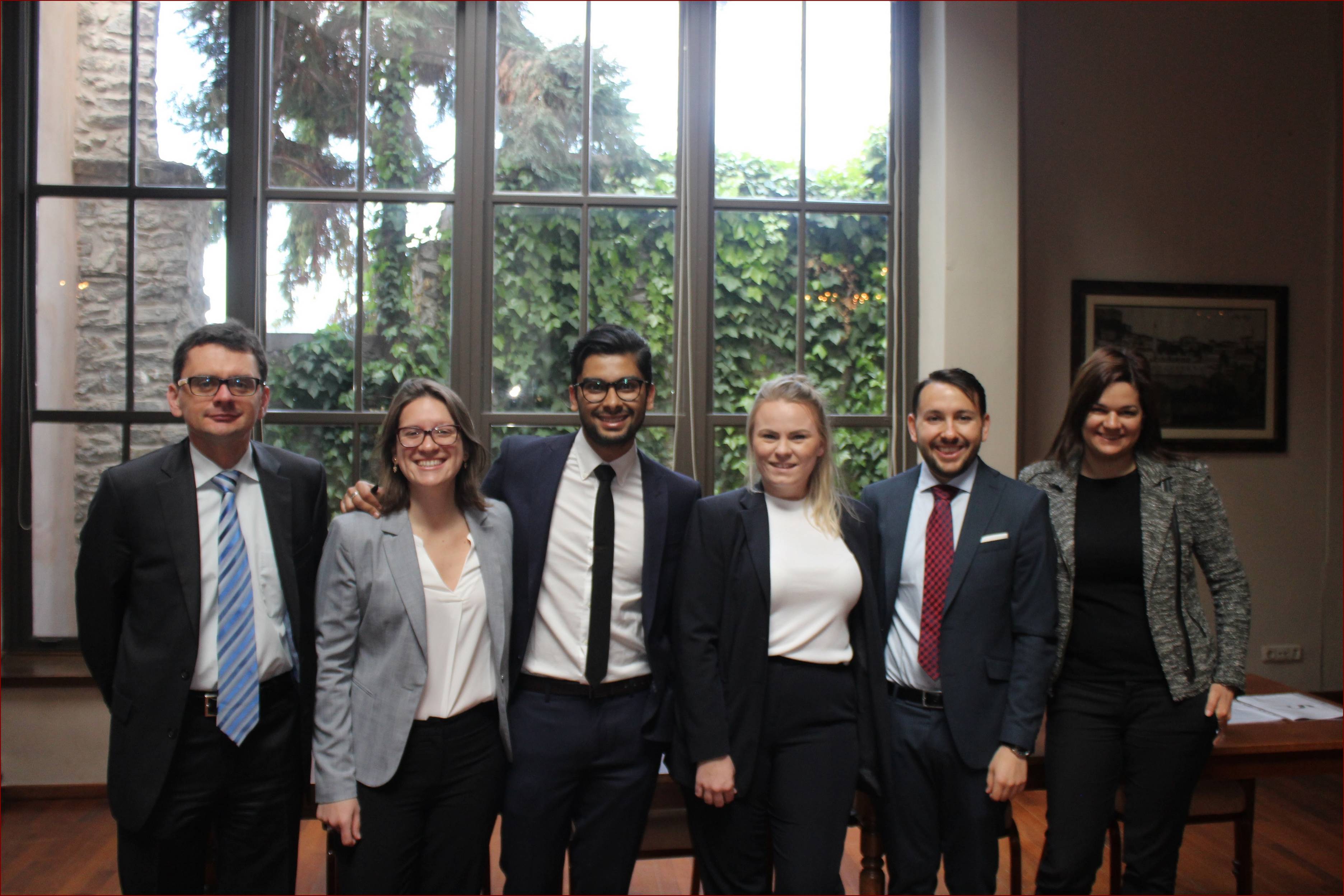 Pr Lukasz Stankiewicz, Adriana Pages (Brazil), Azeem Manghat (Canada), Stine Johansen (Norway), Jared Cynamon (USA) and Pr Panagiota Katsorchi
Four students from the LL.M have brilliantly won the 4th Europa Moot Court.
The MOHA Research Center organized for the fourth consecutive year a European law Moot Court which brought together law students from eight universities around academics and practitioners (judges, lawyers, senior civil servants …).
The objective of the competition, through the handling of a practical case, the solution of which is never obvious, is to confront students with new questions of law to develop their competence in the field of legal argumentation and their oral arguments.
The possibility of arguing against students from other countries representing other legal sensitivities and in front of European and national judges, referendaries to the European Court of Justice, lawyers and academics, is thus an experience unique.
This fourth edition, which took place in Kavala (Greece), was based on a fictitious case in the procedural framework of the preliminary question before the Court of Justice of the European Union, requiring a study of the legal implications of the migratory crisis and in particular the questions of citizenship, asylum and immigration. Previous editions concerned tax law and competition law.
The universities that participated are: University of Liège (Belgium), University Paris-Dauphine (France), University Jean Moulin Lyon 3 (France), University of Lisboa (Portugal), University IE (Spain), University of Sofia "St Kliment Ohridski "(Bulgaria), University of Hamad Bin Khalifa (Qatar) and University Aristotle of Thessaloniki (Greece).
The jury included, among others, Mr Melchior Wathelet, First Advocate General of the Court of Justice of the European Union, Mr Vasilios Skouris, former President of the Court of Justice of the European Union and Mr Jean-François Bellis (Brussels firm Van Bael & Bellis).
For the first time, the LL.M of the Jean Moulin Lyon 3 University sent a team of 4 students to participate in the competition: Adriana Pagés (Brazil), Stine Johansen (Norway), Azeem Manghat (Canada) and Jared Cynamon (USA). The team was supervised by Lukasz Stankiewicz with the support of Marie-Laure Basilien-Gainche and Panagiota Katsorchi.
Our team brilliantly won the victory, beating Thessaloniki in the final. Moreover, Adriana Pagés won the best speaker award and was offered an internship at the Court of Justice of the European Union.